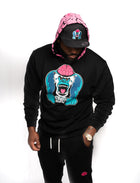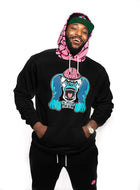 Meet Seymour, the muse behind the whole Gorilla Brain™ Culture. The BOLD expression of Aggressive Expression with the goal of highlighting the GENIUS in all of us. The Seymour Genius™ Signature logo is a bold approach to express yourself- and the softest most luxurious feel you have ever felt. Heavy cotton feel with extra soft velvety material inside.  

Surprisingly breathable so overheating won't occur.

Unique subtle shine & wrinkle resistant

Fixed hood with drawstring

Signature Brain hoodie Design 

96% cotton & 4% Polyester

Please allow up to 21 Business days for pre-order deliveries.