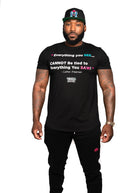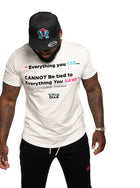 Statement high-end custom blended scoop bottom designer T-shirt made by Luther himself representing the type of fit, feel and feelings he wants to represent anytime he steps into a room. Statement T-shirts printed with different phrases are essential to our Gorilla Brain Gang™. Luther creates each phrase when genius strikes adding to the culture of his mantra "See Me See More!!" The design is finished with signature Gorilla Brain™ colors. Be inspired and reminded of the Genius Brain™ you possess each and every time you wear this remarkable tee. TAP INTO YOUR GENIUS!

Rare Custom Blended Breathable Cotton blend
Unique subtle shine & wrinkle resistant
Crew neck
Pre-shrunk 
Scooped hem design

Please allow up to 21 Business days for pre-order deliveries.